korpsantti
Super Admin





Number of posts

: 662


Age

: 41


Localisation

: Finland


Registration date :

2008-03-09


Subject: We still got IT!!! Sat Jun 05, 2010 10:46 pm

---
Elysia_1-Admin
Supreme Admin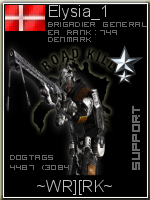 Number of posts

: 967


Age

: 45


Localisation

: Aalborg, Denmark


Registration date :

2007-06-06


Subject: Re: We still got IT!!! Sat Jun 05, 2010 11:07 pm

---

Awsome pic Harri...

It took one round before to get used to flying that thing... But once I got the hang of it and Jan got his bareings, we where unstoppeble.. So much so, Jan got banned when that round was over... lol

To bad.. And he was enjoying himself too... And then a sad loser Server had to go and kill his mood like that.. Weak!
korpsantti
Super Admin





Number of posts

: 662


Age

: 41


Localisation

: Finland


Registration date :

2008-03-09


Subject: Re: We still got IT!!! Sun Jun 06, 2010 7:52 am

---

Yeah, that was very weak from them... What were they talking about lousy teamplay?!?!? It was Teamplay on its best!!!! I think Accacacca was medic and he was healing us all the time and I was repairing as much as i could to keep us going... And then they ban Lolly for kicking ass!!! Its not his fault that everyone ran to his leadrain and died... 96 times

Well, i must say that its extremely annoying to die that much, been there, done that!!!

But most annoying was that there was guys putting mines on titanshield and other real rulebreakers... And what did admin?
Guest
Guest




Subject: Re: We still got IT!!! Sun Jun 06, 2010 9:25 am

---

Hahaa, great job guys!

shame you cant pull that off in bfbc2 since the guns on the UH60 suck big time,

dunno if the flares will help they were planning to add
korpsantti
Super Admin





Number of posts

: 662


Age

: 41


Localisation

: Finland


Registration date :

2008-03-09


Subject: Re: We still got IT!!! Sun Jun 06, 2010 9:46 am

---
Sponsored content

Subject: Re: We still got IT!!!

---