Guest
Guest




Subject: Hey finaly remember my password lol Wed Sep 29, 2010 10:34 am

---

Hey guys hope you all well.
I finaly remembered my pass word for forums lol, must be my age senile.
It was great to have a game with some of you guys the other day on your bfbc2 server.
I have missed playing along side you lot.
As I have always felt you lot to be great allies of =AI= an us great allies of WRRK
Hope to be on your server more an play along side you lot.
An maybe you lot fancy a game of bf21 as I still have a server never used these days.
Its a shame they never keep the command rose from bf21 an move it to bfbc2.
I find badcomp has alot of issues in game play like getting ammo an bloody repairs lol unless you in vent with team mates you seem to have very little chance lol.
Also how you like grheans reflex movie, man he is mad a very quick little bugger.
Them gunships are so weak its like flying a ballon one hit an POP, have you noticed hit the rotors an the thing goes out of control.
Snipers are way over powered with that mortar strike they can call in.
Should of kept the commander idea an squad leader in bfbc2.
Does anyone else have problems trying to get past a twig or branch that seems to be a wall or even a little hill thats like mount everest lol.
Also Grhean an myself have been hunting down some of the glitches in the game an have found several.
We can get the bradley up to the top of the cliffs lol.
If you go up there it is so clear across the map almost like no fog on.
See you all soon your allie Thrash
korpsantti
Super Admin





Number of posts

: 662


Age

: 41


Localisation

: Finland


Registration date :

2008-03-09


Subject: Re: Hey finaly remember my password lol Wed Sep 29, 2010 1:28 pm

---

Man you talk a lot... lol

Ive tried to find you on bc2 but i dunno your nick or my invites dont go thru... ive tried to invite AI always i see but no response, friendslist sucks on bc2... Plz invite me if you like...
And me too thinks bc2 sucks big time, hope bf3 is coming soon, or they finally notice how good 2142 is and its worth making new version (no i dont mean new patch, whole new game based on 21)

And about glitching, its not my thing, all except c4 uav, it is funny;)
Guest
Guest




Subject: Re: Hey finaly remember my password lol Fri Oct 01, 2010 6:21 am

---

Hey Korps, the glitching side is so you know what people do to you thats how I have found them out.
Like a squad keep appearing above my head I kill 1 then 2 an then they back again, it was driving me mad how they got there, so I finaly worked it out. they had a squad member inside the rocks an I mean inside the rock.
The game is full of glitches an rubbish, I hate it for the inpassable blade of grass or the twig that pins your shoulder an little pebbel on the floor that gets you stuck an you hop crouch hop an do everything to get off it lol.
Trasher Thrash in bfbc2 ok
I guess elysia an gripper are star trekking still.
See you soon
korpsantti
Super Admin





Number of posts

: 662


Age

: 41


Localisation

: Finland


Registration date :

2008-03-09


Subject: Re: Hey finaly remember my password lol Fri Oct 01, 2010 10:53 am

---
Elysia_1-Admin
Supreme Admin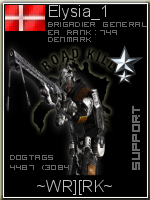 Number of posts

: 967


Age

: 45


Localisation

: Aalborg, Denmark


Registration date :

2007-06-06


Subject: Re: Hey finaly remember my password lol Fri Oct 01, 2010 1:11 pm

---

I'm still around... Just busy at home with family and everyday life.

It's true... I am playing a lot of Star Trek... But I'm also playing a lot of 2142 aswell, ever since the new BETA patch has come out... It's AWSOME! Lots of fixes and some cool maps. =)

So I'm still here... Just busy.

Gr1pper on the other hand is no longer a member of the Clan as for the momment. He had soe personal problems at home and had to take of them, of course. So he decided the best course of action was o drop ALL ties to everything other then thing at home and work. When things where back to normal, he'll be back. =)

btw... Nice to see you again Trasher!
Sponsored content

Subject: Re: Hey finaly remember my password lol

---